Tanzania : Union of Tanganyika & Zanzibar 50 years on
Tanzania : Union of Tanganyika & Zanzibar 50 years on
"The Republic of Tanganyika and the Peoples' Republic of Zanzibar shall be united in
one Sovereign Republic to form the Republic of Tanganyika and Zanzibar"
–Section 4 of the Articles of Union 1964
2014 mark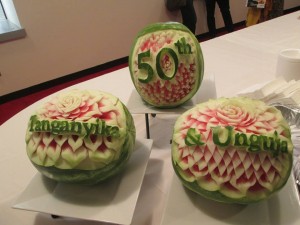 s the 50th anniversary of the formation of Tanzania as we know it today. On April 26th 1964 the late former President Julius Nyerere and the late Sheikh Abeid Amani Karume, first President of Zanzibar signed the articles of the union agreement leading to the unification of Tanganyika and Zanzibar. With the ratification of the articles, Tanganyika and the islands of Zanzibar united as one to become Tanzania. The Union effectively brought together the 120 plus ethnic groups in both territories and has endured for 50 years, by no means an easy task.
The Tanzanian community in Washington DC and the surrounding states celebrated this momentous occasion with a two day program full of cultural events that included food, dance, theatre and exhibitions and soccer matches.
In attendance was the Tanzanian Ambassador to the US Madam Liberata Mulamula, accompanied by Hon. Mwigulu Nchemba the Deputy Minister of Finance and Dr. Mwinyihaji Makame, Minister of state in Presidents office. Both cabinet ministers flew in for the occasion.
Guests were entertained by a variety of cultural activities including drummers, singers and dancers and actors performing skits. Guests also got a taste of Tanzania. Samples of Tanzanian cuisine were available for tasting. The dishes included and a fusion of African, Indian, Arabic and European influenced food such as Mandazi, Samosas, Chapati, Pilau and sweet deserts like Kashata – a type of candy made from peanut coconut, sugar and oil. In addition to the free food, food and drink was also available for purchase. The food was a big hit with everyone.
Also at hand were exhibitors from the Tanzanian business community representing various industries such as the Arts & crafts, manufacturing, accounting & financial services,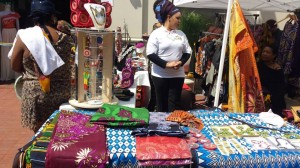 tourism, health & wellness and education. The arts and crafts sector was well represented and popular as well. On display was Clothing made from the famous Tanzania Khanga material, Maasai and other ethnic beads, sandals, jewelry and purses.
Other exhibitions included educational program that teaches Swahili as a second language. Health education was provided by the very popular NesiWangu ( MyNurse) a health care professional blogger who blogs in Swahili, the national language of Tanzania. The blog discuses daily health issues, educates and answers health related questions from the Tanzanians worldwide including those in Tanzania. Topics range from women's health, chronic ailments, sleep apnea, to life style diseases. Also present was Southern African Community USA (SACU) a community based organization that caters to southern Africans in the USA. For disclosure purposes, Southern African Connection is an initiative of SACU.
All in all, Tanzanian Union Day event was well attended with at least an estimated 100 people in attendance during our presence; people were still coming even as Southern African Connection left the event. Southern African Connection spoke with Tanzanians who came as far away as New York, and as far south at Georgia. In the spirit of Umoja, friends of Tanzania were also in attendance celebrating Tanzanians union and unity. Representing the friends of Tanzania were guests from Cameroon, Ethiopia, Ghana, Namibia, South Africa, USA and Zimbabwe just to name a few. Southern African Connection salutes the people of Tanzania on maintaining the union and looks forward to covering many more Union celebrations. Hongera na Kila la kheri!
By Omega Tawonezvi for Southern African Connection