Always with Us: Ladysmith Black Mambazo
Always with Us: Ladysmith Black Mambazo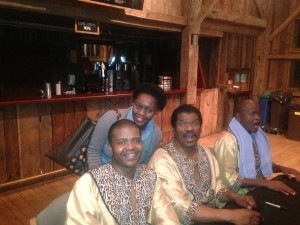 Fresh off their fourth Grammy win, Ladysmith Black Mambazo took time to charm the Washington DC area community with its isicathamiya (a cappella) harmonies this February. The group warmed listeners with its uplifting, rich melodies and entertained with light-hearted witty interaction. Who knew reflective spiritual songs could produce so much laughter?
It is a reflection of their talent. The South African group has shared the country's traditional music with the world for 50 years. Led by Joseph Shabalala, the close-knight group includes some original members and transcends generation. Among other cousins and friends, it includes four or Mr. Shabalala's sons and one grandson. Mr. Shabalala and the group's oldest member, Albert Mazibuko, have sung with the group since the 1960s.
Before performing each song, Mr. Mazibuko shared the meaning and history of the songs. He spoke of their special relationship with the late Nelson Mandela—their most recent Grammy and its album, Live: Singing for Peace Around the World, was dedicated to the former President and Nobel Peace winner. The group also performed songs from its newest album Always with Us, an album in memory of the group's matriarch, Joseph's wife Nellie Shabalala. These albums, he shared, provide them with a great amount of comfort.
The group lifted the mood with some of their classic hits such as Shosholoza, Wimoweh Mbude, Diamonds on the Souls of her Shoes, Homeless, and others. In true South African style, each song came with well-coordinated dancing and a few called on the audience to sing along. Ladysmith Black Mamboza performed at The Barns at Wolf Trap to a full house that left smiling and fulfilled.
By Thoko Kachipande for Southern African Connection